Colleges and Universities
COLLEGES AND UNIVERSITIES
---
The most important thing is to actually think about what you do. To become aware and actually think about the effect of what you do. That's key, and that underlies everything else. What you do makes a difference, and you have to decide what kind of difference you want to make.
– Dr. Jane Goodall, U.N. Messenger of Peace, Founder of Roots and Shoots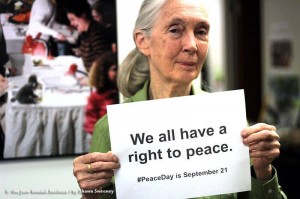 Peace Day is a great way for college and university students to join with young people around the world and make their voices heard for peace! Students can engage in peace activities in their classes or independently or though campus clubs or informal groups. Volunteering and service; music, art and film; intercultural dialogue; speakers on topics related to peace; cultural celebrations and faith gatherings; fundraising activities for local or global peace efforts; flash mobs for peace; peace walks; dances for peace; and meditations are just some of the options for Peace Day engagement.
We urge faculty to devote some class time during the weeks surrounding September 21 to peace-related topics related to course curriculum.
FACULTY/STUDENT RESOURCE
"The Evolution of a Global Peace System"

Produced by the War Prevention Initiative, this video can be viewed in class and the remainder of time can be used to discuss one or more aspects explored in the video. A Pilot version of the "Peace System Study Guide" (PDF) is also available for free through the War Prevention Initiative.
Download Faculty and Student Resources – Interfaith Youth Core (Chicago) – CLICK HERE
HIGHLIGHTED CREATIVE ACTIVITIES
Dance for Peace – Peace One Day's One Day One Dance Campaign
Make and Display Peace Flags – The Peace Flag Project
Peace Flags provide a way to express some of your important ideas and hopes for the world. In words or pictures, you can display wishes for yourself, your family, friends, campus, community, or the world.


Make and Share Peace Cranes
Write a message/poem of peace, fold the paper into a crane, share with someone in your school or community, or let Peace Day Philly collect them and in collaboration with the Peace Crane Project we'll send them to students in another part of the world!
Chalk4Peace – Chalk4Peace Website
Chalk4Peace is a fun and community-building way for youth to envision and share images of peace. For a Chalk4Peace video, CLICK HERE
Also check out the other What Can You Do sections for additional ideas!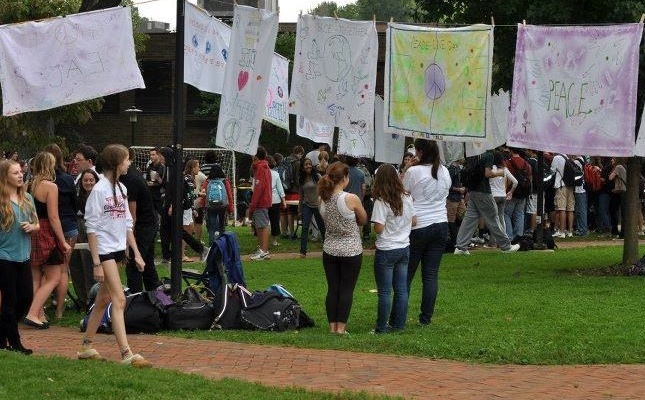 STUDENT WELLNESS RESOURCES
Mindfulness for Teens, including mindful apps
Student Health and Wellness Guide
Bullying Awareness and Prevention
RESOURCE LINKS
National Peace Academy
The National Peace Academy is a home for peace professionals and community organizers looking to hone their practice and for budding community leaders and changemakers who are seeking knowledge and skills to create safe, healthy and sustainable communities and nurture positive change in themselves, their family, neighborhood, workplace and the world.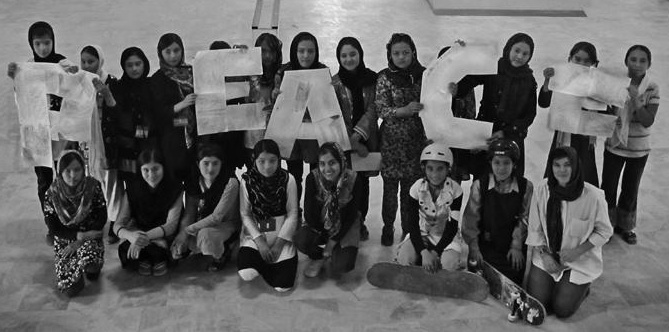 Peace One Day's Student Coalition
The Peace One Day Student Coalition provides students with an opportunity to unify their messages and activities in support of Peace Day 21 September, thereby achieving greater impact. Sign up your university, college or student organization to help create a more united international student community in the name of peace.
Roots and Shoots Service Learning Campaign
The NGO Roots and Shoots, founded by renowned primatologist, environmentalist and UN Messenger of Peace Dr. Jane Goodall, is about making positive change happen—for our people, for animals and for the environment. With tens of thousands of young people in more than 120 countries, the Roots & Shoots network connects youth of all ages who share a desire to create a better world. Young people identify problems in their communities and take action. Through service projects, youth-led campaigns and an interactive website, Roots & Shoots members are making a difference across the globe.
VIDEO OVERVIEW OF ROOTS AND SHOOTS
Seeds of Peace – USA
Seeds of Peace USA, located in Maine, offers an internationally-recognized conflict resolution and youth leadership program focused on intercommunal tensions. In addition, the "American Seeds Program" offers youth an incredible opportunity to learn about international conflicts and cultures firsthand as delegates to the Seeds of Peace International Camp. Alongside their peers from the Middle East and South Asia, American campers take part in daily dialogue sessions focused on history, identity, politics and communication skills. American delegates also help to create bridges between campers from conflict regions.
United Nations Academic Impact Global Initiative for Colleges & Universities
Academic Impact is a global United Nations initiative that aligns institutions of higher education with the United Nations in actively supporting ten universally accepted principles in the areas of human rights, literacy, sustainability and conflict resolution. The Academic Impact also asks each participating college or university to actively demonstrate support of at least one of those principles each year.
AUDIO/VIDEO RESOURCES:
"Loving-Kindness" Meditation to Boost Compassion – AUDIO -13 minutes/Text
One Minute Meditation Video

Duke University Students Create A Peace Day Mural
https://www.youtube.com/watch?v=0z70Kt1FGKs
Pinwheels for Peace on a College Campus
Syracuse University Students Make a Giant Peace Sign in the Quad
ARTICLES:
Charleston, SC Professor and Students Work for Positive Peace
Penn State's University Park Campus Observes the International Day of Peace
Created for the global Peace Education Team, IDP NGO Committee at the UN