---
"We cannot achieve the UN Sustainable Development Goals unless we work together to make this a better world for people, other animals and the environment."   – Dr. Jane Goodall, Messenger of Peace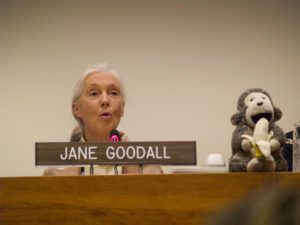 FEATURED VIDEOS
"Clean air and a livable climate are unalienable human rights. The people made their voices heard on September 20, 2014 around the world, and the momentum will not stop. The time to answer humankind's greatest challenge is NOW."
– Leonardo DiCaprio, Actor and UN Messenger of Peace
Peace Day is a powerful day to do something in support of the environment. Consider coordinating a neighborhood clean-up, encouraging children to learn about people, animals and habitats in different parts of the world, start a "Roots and Shoots" group in your school or neighborhood, plant a peace pole in a community space, or start a neighborhood garden where youth can learn about growing food and good nutrition.
You can also share short videos related to the environment with young people, and then discuss how their choices can support a more peaceful and harmonious world.  Here's one that illustrates where plastic bottles go:
"According to a study published in the journal Science, every year, about 8 MILLION METRIC TONS OF PLASTIC ends up in the world's oceans."
CLICK HERE for photos & a lesson plan on the beauty of icebergs and the impacts of climate change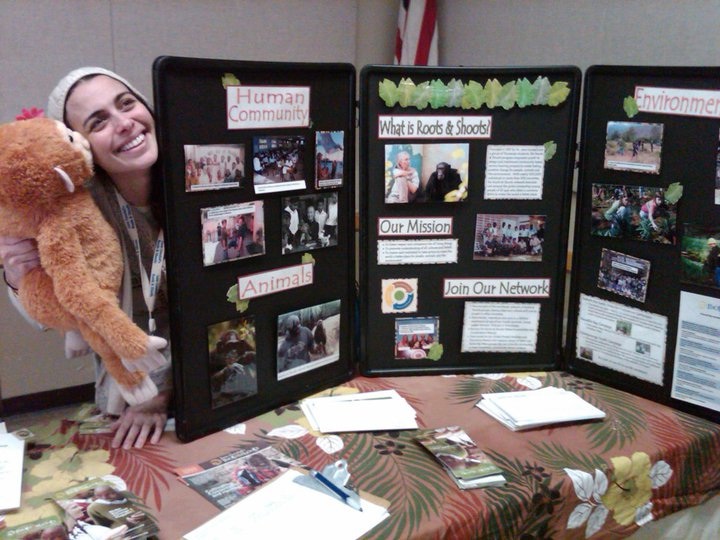 Roots and Shoots's Youth and Environment Program in 100+ Countries!
Roots and Shoots was founded in 1991 by the renowned Dr. Jane Goodall, a United Nations messenger of Peace. Roots and Shoots empowers youth to identify and respond to problems in their world relating to people, other animals and the environment. Roots and Shoots is based on the values of KNOWLEDGE, COMPASSION, ACTION.
Roots and Shoots Peace Day Celebrations – CLICK HERE
Video Overview of Roots and Shoots – CLICK HERE
Dr. Jane: The Environment and Roots and Shoots – :CLICK HERE
Dr. Jane's Message to Youth – CLICK HERE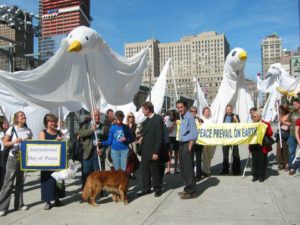 LINKS and ARTICLES
National Geographic article about Dr. Jane Goodall and the International Day of Peace
To learn more about Peace Poles through the World Peace Prayer Society, CLICK HERE
For the website of the Wangari Maathai Institute for Peace and Environmental Studies, CLICK HERE

"I will be a Hummingbird" Animated Video, narrated by the late Wangari Maathai
Restoring Peace: Six Ways Nature in Our Lives Can Reduce Violence In Our World
Articles by Zen Buddhist Master Thich Nhat Hanh
Why mindfulness and a spiritual revolution rather than economics is needed to protect nature and limit climate change
Falling in Love with Mother Earth
SGI Quarterly, a Buddhist forum for peace, culture and education – Sustainability: Learning for Empowerment
Building Peace Through Environmental Conservation
United Nations Environment Program

World Environment Day Video – UNEP