Service/Humanitarian Action
SERVICE/HUMANITARIAN ACTION
---
This is about humanity – we are living things we depend on each other. And that's how we are going to build a global community where we care for each other and make this world a better place. – Former Child Soldier (S. Sudan) and performing artist Emmanuel Jal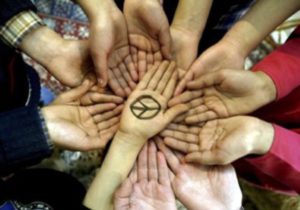 Peace Day provides individuals with opportunities to build peace and a sense of our common humanity through volunteering/service and learning about humanitarian and environmental issues affecting communities close to home and across the world.
FEATURED VIDEO
Farah Siraj's song "What If" encourages us to be mindful of those who live in contexts of war and conflict – whether across our city or across the world. Deepening our compassion and awareness of others is a cornerstone of building peace.
SEPT. 21 – A DAY TO HELP OTHERS LOCALLY AND GLOBALLY
The UN's unanimous 2001 UN Resolution of Peace Day expanded the International Day of Peace (first established by the UN in 1981) to not only be one of "commemorating and strengthening the ideals of peace both within and among all nations and peoples" but also one that encourages a "cessation of hostilities for the duration of the day." In areas of conflict, this 24-hour window makes possible life saving and life-enhancing humanitarian aid. Aid projects by organizations such as UNICEF, World Health Organization and many others will support to communities around the world on and around Sept. 21.
People around the world are using the global platform of Peace Day to make a difference for humans and the planet. In urban areas, neighborhoods can also call for a local ceasefire – a 24 hour window where communities can consciously work to reduce violence and build peace.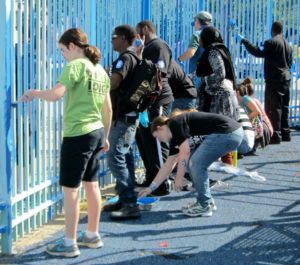 WHAT CAN YOU DO – SERVICE/ACTION

– Organize a fundraiser for a local or global cause important to you
– Volunteer in your community or organize a neighborhood service project 
– Donate to a local or global cause meaningful to you (see below for several global suggestions)
– Get your workplace involved in a service or environmental project
– Learn about a global cause and take action through sharing on social media
– Learn more about what the United Nations is doing to support gains re: the Sustainable Development Goals LEARN MORE HERE.
In 2015, the world moved beyond the Millennium Development Goals to the Sustainable Development Goals (SDGs). Many of this goals relate to peace, and #SDG16 directly relates to Peace. Learn more about the SDGs:
WORLD HUMANITARIAN SUMMIT: MAY 2016
For the first time in the 70-year history of the United Nations, UN Secretary-General Ban Ki-moon has convened the World Humanitarian Summit in Istanbul on 23 -24 May. The Secretary-General called for humanity — people's safety, dignity and the right to thrive — to be placed at the heart of global decision-making. To deliver for humanity, stakeholders must act on five core responsibilities.Learn more about the summit and get involved in the global movement to improve lives for all humanity HERE.
SERVICE/HUMANITARIAN AID RELATED ORGANIZATIONS

The Dalai Lama – We are all part of one human family